Brian M. Caudill, JCA Solutions
Sandra I. Caudill, JCA Solutions
February 20, 2009
Abstract
Wikis, blogs, and social networks. Oh my! All of these new options… And they are all FREE! These E-Learning 2.0 tools are great ways to bring interactivity into a blended and distributed classroom. Let E-Learning 2.0 tools take care of the distance collaboration and learning, and let SCORM 2.0, and its new modular design, take care of the data management. To illustrate, informal assessments can be delivered via blogs and the community in which you participate in, judging your readiness for additional responsibilities or your qualifications to perform a learning objective. Formal assessments, on the other hand, can be administered via the LMS and graded and tracked by the SCORM 2.0. The US Army currently uses many of these collaboration tools to share best practices in Iraq and several others arenas.
These days, the Internet contains a wealth of information and technologies from which individuals and communities can acquire content and implement e-learning solutions quickly and effectively. Sites like http://www.ocwconsortium.org and http://www.merlot.org offer great examples of free online authoritative content. These authoritative sources, coupled with the right technologies, can make for an enriching and engaging blended learning experience. A whole host of technologies working in concert have produced and will continue to produce this social network of information sharing. These same technologies that have made such information available to the masses can be integrated into the blended classroom setting to create an enriching social learning environment.
There are two overarching technologies that contribute to the proliferation of learning on the web. The first, SCORM, has had the greatest and most profound impact on the proliferation of formal learning through a sharable object-based approach, while Web 2.0, and more specifically E-Learning 2.0, has had an impact on the proliferation of user-created content. Both of these have their pros and cons, but when used in concert within a blended learning environment the results can be quite promising. Let's, for a moment, discuss E-Learning 2.0 and SCORM 2.0 as separate entities and break down what is really driving them.
To understand E-Learning 2.0 we must first understand Web 2.0. Web 2.0, based on the interviews found in the book "Web 2.0 Heroes," is not a technology in itself, but, in fact, a step in the evolution of the web. Web 2.0 does not represent a new version of the web, but simply new concepts and technologies that add an additional layer of user interaction. Lt. Gen. Jeffrey A. Sorenson, USA, chief information officer/G-6, U.S. Army, points out in an AFCEA article that there are three parts to Web 2.0: technology, community and social networking, and business processes. "The Army is primarily focused on the technology and the community and social pieces. Right now we're deploying a lot of tactical systems that take advantage of collaboration tools. We are taking a lot of data—in some cases disparate pieces of information—and combining them to come up with improved intelligence reports for the warfighter," Gen. Sorenson says. The Army also uses Web 2.0 technologies to exchange knowledge among various other communities he adds.
Interestingly enough, the actual technologies behind Web 2.0 have been around prior to 1998. That was around the same time that the Advanced Distributed Learning (ADL) initiative was being created by the Office of the Under Secretary of Defense for Personnel and Readiness (OUSD P&R). When we break down Web 2.0 into its parts we find that the main driving technologies behind Web 2.0 are JSON (JavaScript Object Notation), XML (eXtensible Markup Language), AJAX (Asynchronous JavaScript and XML), service-oriented architectures and SOAP, metadata and tagging, and RSS (Really Simple Syndication) feeds. These technologies enable individuals to quickly and easily create blogs, wikis (What I Know Is), web meetings, and collaborative environments that allow information to be disseminated quickly through a community of practice.
In the AFCEA article mentioned earlier, it states that the Army's most visible tool that incorporates Web 2.0 technologies is Army Knowledge Online, or AKO. Lt. Gen. Sorenson relates that often someone will post a query on a blog site, and suddenly responses from all across [the globe] will come forth. In addition, AKO features RSS feeds where soldiers can request specific information, such as particular areas of the world, environments or tactical operations, be sent directly to the warfighter. Much like the Army, the Navy and the Marine Corps, and the U.S. Air Force recently stated that "58 percent of its lead command program offices are already using Web 2.0 technologies within their applications and database retrieval programs." However, as mentioned in DoD's CCRP web site, "concern about the security risks in what could be termed the Wild West of the World Wide Web is currently hampering the services' ability to take full advantage of promising properties in the Web 2.0 landscape."
Besides security the other big issue with Web 2.0 is that, outside of a structured environment for learning, these technologies can host any number of forums from a place to share photos to a place to discuss news and politics. This is where E-Learning 2.0 comes in. E-Learning 2.0, again an evolution in the way we produce and disseminate knowledge, aims to use these same Web 2.0 technologies in a more formal way to produce a desired learning result and achieve any number of learning objectives. As defined by Wikipedia, E-Learning 2.0 is used to refer to new ways of thinking about e-learning inspired by the emergence of Web 2.0. From an E-Learning 2.0 perspective, conventional e-learning systems were based on instructional packets, SCOs, that were delivered to students using Internet technologies: the LMS and the browser. The student simply had to learn from readings and prepare assignments, which were then evaluated by the instructor. In contrast, the new E-Learning 2.0 places increased emphasis on social learning through blogs, wikis, podcasts, and virtual worlds such as Second Life[1].
The technologies behind E-Learning 2.0 enable instructors to quickly and easily add blogs, wikis, and other synchronous and asynchronous technologies to their classroom experience to enhance the learning experience and to create a community of learning. Rather than an instructor-to-student relationship, we can now build a student-to-community relationship that is fostered, proctored, and managed by the instructor, but created and benefited by the students. This model introduces the instructor in more of a facilitator role. In the E-Learning 2.0 paradigm, the student is not only the learner, but also the content creator. As learners experience the content, they also add to the content and the knowledge base grows. But the down fall is that there is no inherent method to track and objectively measure these activities. This is where SCORM ties into the equation.
While E-Learning 2.0 focuses on content creation and dissemination, SCORM 2.0 focuses on tracking objective performance measures. The goals of SCORM in the beginning was to (1) enable instructors to manage learning content or content objects via the Learning Management System (LMS), (2) evaluate the learner based on criteria that could be measures with multiple choice, matching, ordering, and true/false questions, (3) enable the delivery of learning content over the Internet, and (4) enable that content to interoperate seamlessly between different LMS systems. Some of these goals have been achieved; others have not. There was a focus on using the Internet to imitate the instructor-led experience. To date most, but not all, of the content objects created with SCORM and reusability in mind have been page turner, text intensive, content with low in interactivity. We have the technology with e-learning 2.0 to make better content and SCORM 2.0 aims to provide the infrastructure to support that.
SCORM 2.0 major upgrades and changes will center on a more service-oriented approach. This means that developers will have access to many separate and distinct web services, which can then be combined to meet a business function. SCORM 2.0 will also have the ability to integrate multiple applications into its service oriented architecture; this is where the E-Learning 2.0 integration should factor into the equation. There has also been a proposed "CORE SCORM" which will form the basis of the SCORM specification that communities of practice can then add the more advanced parts, or services, of SCORM that fit their needs. "CORE SCORM" may consist of just the basic content communication mechanisms and from there, communities of practice can add in sequencing, navigation, collaboration, and other SCORM services as they need them. This plug and play service-oriented approach makes SCORM 2.0 much more flexible than earlier versions of SCORM as it looks to support new and innovative ways of producing and distributing learning content.
Below is an illustration of the relationship between these different technologies and concepts discussed above.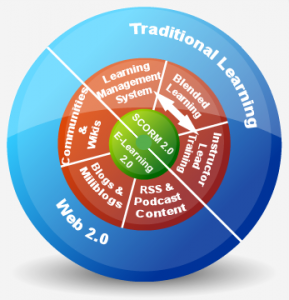 Now that you can see how these technologies can work together with, at the core, SCORM 2.0 being the means to track learner performance and E-Learning 2.0 the means to create and disseminate the content, let's discuss practical ways that these technologies can be used in the classroom.
Blended learning offers a great test bed to start implementing E-Learning 2.0 while maintaining the structure of a classroom environment. Without the facilitator present, I think we can all agree that the learner may be distracted and digress from the formal path of study that was intended. With the instructor/ facilitator present, the student is kept on track for their learning path, but is still able to explore. At the same time, the LMS-based instruction, delivered by way of the SCORM standard, can be tracking multiple learners' progress and alert the instructor when there is an issue with unsatisfactory performance on an assignment or assessment.
To illustrate, informal assessments can be delivered via blogs and the community in which the learners participate in, judge their peers readiness for additional responsibilities or qualifications to perform a learning objective. Formal assessments, on the other hand, can be administered via the LMS and graded and tracked by the SCORM 2.0. Some other E-Learning 2.0 classroom activities may include, creating a blog regarding content learned in the classroom or from static page turner training hosted on the LMS. That blog then receives a peer review from other students in the class via comments to the blog. Another activity could be that the students create a wiki of all the things they learned while attending the class and the next class then adds to the wiki and so on and so on. New material is being added to the class by learners that have seen and learned the material and this material is then used to teach the next group of learners which in turn take that material, add to it and offer that new knowledge to the next group of learners. Depending on the content, there is even the option of making the wiki open to the public web and have people form all over the world contribute to the knowledge. The key here is collaboration and E-Learning 2.0 allows many avenues for collaboration.
Another way to look at E-Learning 2.0 in a blended environment is to take a look at the example of language acquisition. Let's consider the three stages in teaching a language:
1) The presentation stage: where you introduce the new topic.
2) The practice stage: where you drill students.
3) The production stage: where students use the teaching point in real world scenarios.
The presentation stage is characterized by full control by the instructor, whereas in the production stage students have full control of the teaching point. During the practice stage, the control transitions from the instructor to the learner. The only use of Web 2.0 tools during the presentation stage would be breaking the ice, but no real learning. During the practice stage, use Mobile Assisted Language Learning (MALL), handheld computers or cell phones used to assist in language learning, to drill the concept, but the students would not be free to choose the language structure they are rehearsing. Web 2.0 would be most useful in the Production Stage, where students would really be collaborating by writing blogs, for instance, and having other students reply back or by having full dialogues in Second Life or over Skype with people in other countries fluent in the language they are practicing.
Now the theory is all well and good, but the actual implementation is a different story. Luckily, according to http://www.ocwconsortium.org/use/use-dynamic.html, there are many open learning communities based in the United States that provide free web-based learning materials and many more practical implementations of e-learning 2.0 concepts:
College of Eastern Utah
Dixie State College of Utah
Johns Hopkins Bloomberg School of Public Health
Massachusetts Institute of Technology
Michigan State University
Tufts University
UC Berkeley
University of California, Irvine
University of Massachusetts Boston
University of Michigan
University of Notre Dame
University of Utah
Utah State University
Utah Valley State College
Weber State University
Western Governors University
All the schools above offer free course in the form of PowerPoint downloads, RSS feeds, and podcasts. To use these materials in your classroom, simply visit their website.
With all the content that is freely available and all the tools and techniques that make for robust learning experiences, it is a wonder why this sort of blended technologies have not made it to the classroom as quickly as they have made to the mainstream. The Internet contains a wealth of information from which to derive knowledge and it is the instructor's mission to bridge the gap between raw information and knowledge.
Works Cited
E-learning. Retrieved February 27, 2009, from http://en.wikipedia.org/wiki/E-learning
Jones, Bradley L. (2008). Web 2.0 Heroes: Interviews with 20 Web 2.0 Influencers. Indianapolis: Wiley.
Lawlor, Maryann (2008). Web 2.0, Military Style. Retrieved March 1, 2009, from http://www.afcea.org/signal/articles/templates/Signal_Article_Template.asp?articleid=1527&zoneid=228
Review of Team Collaboration Tools for Crisis Response in the Military and Government. Retrieved March 1, 2009, from http://www.dodccrp.org/events/2006_CCRTS/html/presentations/037.pdf
SCORM 2.0 Assumptions. Retrieved February 27, 2009 from https://letsi.org/index.php?option=com_content&view=article&id=82&Itemid=95/SCORM_2 0_Assumptions_2009Feb09.pdf
SCORM 2.0 Project. Retrieved February 27, 2009, from https://letsi.org/index.php?option=com_content&view=article&id=82&Itemid=95
Second Life. Retrieved February 27, 2009, from http://en.wikipedia.org/wiki/Second_life
---
[1] Second Life (SL) is a virtual world that enables the users, called residents, to interact with each other. Some activities on Second Life include: participation in individual and group activities, trading/purchasing virtual items, attending virtual meetings, and traveling around the world or grid (http://secondlife.com/).
The Rubik's Cube solver runs in your web browser and it finds easily the solution for your puzzle.[/vc_column_text]