An Experience All Its Own
How we learn has evolved and changed which is what led to the development of Experience API (xAPI) aka Tin Can. For many years, all that mattered was accessing e-learning through an LMS and SCORM allowed us to track what happened. With social media, smartphones, tablets, group activities and collaborative environments, as well as the many ways we can access information, our systems for tracking how people learn and perform had to evolve and change with it. SCORM alone cannot keep up with every way we learn.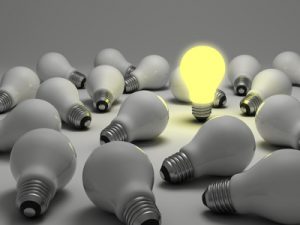 Along Comes Experience API (xAPI)
With the introduction a few years ago of the Experience API, we are promised a new way of collecting and reporting learning data that hasn't been seen before.
But It's Not Your Daddy's SCORM
It's kind of natural then that coming on the heels of SCORM that many would think that Experience API is just SCORM 2.0. Yet many things make it clear that Experience API is not SCORM and in some ways it is so much more. Here's 9.
1. It Doesn't Replace Everything SCORM Can Do
We know the limitation of SCORM that it must have an LMS in order to track learner and course data. The LMS is also the launch environment. Experience API does not have that limitation. That also means, however, that it doesn't have use of all of the features of the LMS.

In addition, Experience API doesn't provide the capability for any type of prescriptive learning or sequencing like SCORM does.

And if you prefer to do things the Experience API way using the SCORM vocabulary you can look at representing your SCORM data in Experience API (xAPI) through the use of "CMI5" or the "xAPI SCORM Profile".
2. But It Has a Broader Scope
Experience API (xAPI), unlike SCORM, doesn't just track e-learning; it tracks ANY type of learning activity. You could have a learning activity for reading this blog post and Experience API could record and store it. Something like: "Jon Doe read the blog post 'An Experience All Its Own' at jcasolutions.com/blog." Online, offline, browser or not; xAPI has the capability to store records of the activity.
3. Yet It Can Work in Parallel to SCORM
It is actually possible to use Experience API at the same time you are using SCORM and an LMS.

Say, for example, you have an e-learning course launched from the LMS. The SCORM Wrapper communicates data with the LMS on course launch, bookmarking, completion, and final assessment score.

Along with that, Experience API can also store that data and other data as well. If you wanted a record of the learner actually viewing a video in the course, for example, SCORM isn't really prepared to track that, but Experience API can record it as a learning activity.

A little more work, but it is possible.
4. Experience API is More About the Journey Than the Destination
When you launch an e-learning course in an LMS and use SCORM, you have the ability to record completion of a SCO (lesson) and scoring of an assessment.

Experience API allows recording of everything that leads up to completion of a course and even beyond. All the elements that fit into a learning topic, such as reading a book, watching a video, etc. and afterwards recording on-the-job performance can be tracked with Experience API.

Think of it like this: I call a taxi for a ride. The taxi records the time and distance of my ride and charges me accordingly. That's SCORM. If I call a ride-sharing service using a smartphone app, I know who is coming to pick me up. I can track their progress as they work their way to me. Together we can track our progress to my destination and completion of the ride. Every part of the experience is reported. That's Experience API.
5. Different Method of Recording Data
Instead of adding data to an LMS database, Experience API uses a Learning Record Store (LRS). The LRS is at the heart of how Experience API works. A database ends up being involved, but it's less structured, allowing for storing a lot more different types of information than a tightly structured database. The LRS also has reporting and analytics features for the data. While it's possible for a LRS to exist inside an LMS, it also can be stand-alone.
6. Expanded data collection
As a result of the different configuration for a LRS, it can hold different kinds of data sets. Think about storing the nuances of a learning activity; the access of reference material, time spent watching a video, accessing an app on a tablet. SCORM data collecting is limited to just the critical information of an e-learning course.
7. True Information Sharing
Course repositories were a part of SCORM; after all part of the name is Shareable Content Object. The intent was that a learning object, in the form of a SCO, could be stored in a repository and then shared around with multiple learning systems. While it existed in a way, it hasn't yet been fully realized. And the only information fully shareable was course information.

The LRS in Experience API sets the data free. One LRS can share data with other LRSs, LMSs, or with an external data report generator.

Think Big Data has come to the learning world.
8. Experience API is Agnostic
When something in technology is agnostic, it means it is not dependent on a specific system. Experience API is not limited to working with an LMS, or operating in a browser window, or having a constant Internet connection for it to work. The type of learning doesn't matter in Experience API. It takes whatever learning activity you provide and stores it.
9. Experience API is a Do-Over
Finally, what makes Experience API not just the next version of SCORM is that they (ADL) didn't just enhance SCORM to create Experience API, they practically started over. The looked at the challenges that SCORM implementation presented and developed a ground up system to make something more flexible and platform independent. Very little of SCORM technology can be found in Experience API.
Ready to explore the Experience API and use a Learning Record Store? JCA Solutions has a learning record store called xAPIBridge. Learn more at https://www.jcasolutions.com/products/tin-can-adapter/