xAPI Tools Part II
The key to effective application of xAPI is the Learning Record Store (LRS). Without the LRS all the data you collect has nowhere to go. Tracking learning activities has little meaning because there is nothing to do with them.
The Learning Record Store is the repository for receiving, storing, and returning data about learning experiences, job performance, and other activities we choose to track for learners or employees. The LRS is basically a database, yet one you can structure to suit your specific need. That's especially important since as our use of xAPI for tracking experiences expands standard data structures may not be useful.
Previously we talked about xAPI authoring tools. Here we will talk about:
Learning Record Stores
Yet xAPI LRS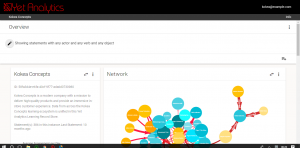 From Yet Analytics comes a product that doesn't have the most original name but makes up for it with some powerful features. The Yet xAPI LRS boasts an ADL certified conformant system that can either work standalone or easily integrate into a learning management or talent management system.
Checking out the demo the visualization of data is stunning and perhaps even a little overwhelming until you get used to it. However, they have also made it easier by presenting the data in list form as well. There are a variety of visual displays of data, many of which are generated automatically. You also have the ability to export data in a CSV format.
Pricing is shown on their website and is straightforward.
Watershed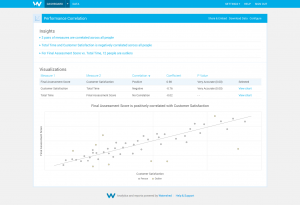 The Watershed LRS is actually a spin-off of the project to develop the learning record store concept. Watershed proclaims both automated and manual data drill-down. Reporting capabilities are also featured with a variety of ways to display data. Not as visually stunning as Yet but practical and useful.
There are some LMSs that have Watershed integrated as their LRS, possibly because of the partnerships during the development of the product. Like Yet's product, it can be standalone or integrated. Watershed also is xAPI Conformant.
The Essential LRS is free for up to 300 learners. After that, you purchase reporting add-ons. As an alternative, you can purchase Learning Platform packages at monthly rates. These are really meant for enterprise application.
Wax LRS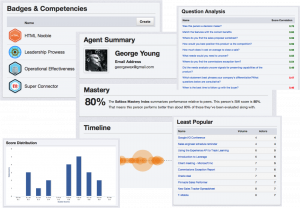 Saltbox has produced a cloud-based Learning Record Store called Wax LRS with some useful features. One that stands out is visual data display for organizational competency. It offers weighting of competencies and quick access to see levels of competency for activities.
Again, not as visually stunning as others. In fact, the visualization is kind of plain. But it is very useful and consistent. Available standalone or integrated with some nice connectors to other systems, including featuring a connector to SalesForce.
Pricing structure is a little different. You pay by the activity statement. The basic package is free for up to 2,000 statements per month. The top-level package has added features but pricing simply says "Contact Us". That could mean anything but usually means you may faint when you hear it.
Learning Locker Learning Record Store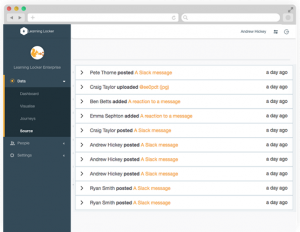 The open source warriors love the fact that Learning Locker is open source! However, with that comes the standard open source caveats; for example, lack of strong support. Yet HT2 Labs, the initial developer of Learning Locker, solves that by also offering a hosted version that includes formal support, as well as a fee-based system.
As of this writing, the latest version is V2. According to their site, they have remade it from the ground up. They even changed from a PHP codebase to NodeJS. More importantly for us, it brags of faster xAPI processing and an improved graphical interface. It is certified xAPI Conformant. It also offers hooks into systems like SAP, SalesForce, HubSpot CRM, and Mandrill. The site claims that even SQL and Excel can send data to the LRS.
The open source version is totally free. The enterprise version (SaaS) is more fully featured and, of course, carries a price tag. Pricing is on the site and pretty simple and clear; offering both monthly and annual options.
SCORM Cloud Learning Record Store
The SCORM Cloud environment, owned by Rustici Software, has been around a while. Since Rustici also developed Project Tin Can, it makes sense that their product would offer full support for xAPI and so an LRS is part of the SCORM Cloud.
That support includes easy visibility of the LRS Endpoints so you or other providers can tie into them. In addition, you can add activity providers, view statements sent to the LRS, and set up automatic forwarding of statements to another LRS. Not a feature rich environment as far as it goes, especially compared to the others mentioned.
Pricing is plain to see and is a unique model compared to others. Keep in mind what you are paying for is all of SCORM Cloud, not just the LRS. If all you want is an LRS, there are better options.
Other Tools
Once you choose your LRS, you may need to look at having it integrate with systems you already have in place. This product will help you do that quickly and easily.
xAPI Bridge
xAPI Bridge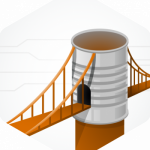 is for organizations that need to integrate an LRS with a Learning Management System (LMS) where the LMS is in charge of creating reports and making sense of the Experience API (xAPI) data.
It also provides an implementation of the server component, the LRS,  which can work by itself or in conjunction with your LMS.
Do you have more questions about xAPI and Learning Record Stores? Contact us at support@jcasolutions.com today!