What to Consider When Thinking About Social Media Learning
Raise your hand if you have had to deal with social media issues in the workplace! One..two..three..four…ok, too many to count! What if you could turn your social media problem into something positive? Why not turn it into social media LEARNING!
Widespread Social Media Use
Facebook. LinkedIn. Instagram. Pinterest. Twitter. Snapchat. And many others. Social media applications are all around us. And most of us are using it all throughout the day. You and me included.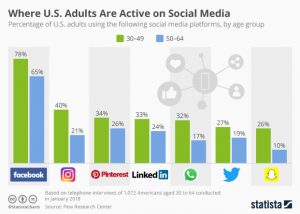 In fact, a study by Social Media Today found that on average people check their social media at least every two hours during the day. Yes, that means the workday as well. According to Statistica, 81% of the U.S. population has a social media profile of some type. Worldwide there are over 2.46 BILLION social media users. As you might guess, the most popular is Facebook, but the most popular varies depending on age groups. Teens and young adults love Snapchat. Older adults prefer Facebook.
So a lot of users. And that's not even including text messaging and blogs, which are also social media. What it means for us is a lot more opportunity to provide learning.
How Social Media Learning Might Look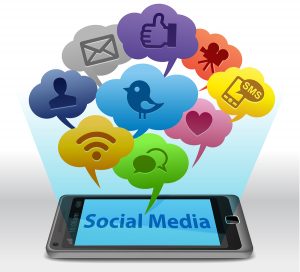 Part of what makes the use of social media in learning interesting is the variety of ways in which we can use it. With a little creativity you can find some new, innovative ways to make access to learning easier for your organization.
Let's take a look at some of the ways to implement social media learning; just to give you a head start.
Discussion Groups
Creating forums online that allow for open discussion of subject matter. This is especially useful when the learners are geographically spread or work different shifts. As a live option, everyone is online at the same time and carry on a real time discourse. Alternatively, each person can contribute to an ongoing thread as it fits their schedule.
Facebook Groups
Facebook allows you to create private groups where access is controlled and requires approval. Those groups can be ongoing resources on specific subject matter. You can add files, photos, videos, and of course threaded discussions. You can use Facebook polls to gather information from learners as well.
Pinterest
Think of Pinterest as an online bulletin board. Users of Pinterest can post images and videos onto "pinboards" and create collections. A service like Pinterest would be an excellent way to post up performance support material like quick reference guides and short tutorials that can be grouped by topic.
YouTube
YouTube is the grandfather of video on the web. Started originally with the advent of Flash video, YouTube made use of streaming technology and progressive downloads to provide immediate service of video on the Internet. Since it's purchase by Google back in 2006 it has grown and maintained its position as the provider of user contributed video. As a result, many organizations are leveraging YouTube "channels" to provide both promotional videos for public consumption, as well as private, subscription based areas for other video content. Many are already using YouTube to provide paid, subscription-based learning content.
Google Hangouts
Hangouts has evolved over the years with Google and now takes two forms. One form, for individual accounts, combines the old Google Voice with other features to create a medium for having text, voice, or video meetings with up to 10 people at a time.
The other form is available only if you choose to utilize the G Suite product line from Google. This line is intended more for organizations to leverage the cloud and integrate Google services enterprise-wide. Hangouts in this venue is being touted as the new way to have video conferencing. Viably, it could also be used as WebEx and other services are being used to provide live online learning.
Shareable Google Drives
Like with Hangouts, every Google account holder has a online storage space called Drive. Capacity per user in the G Suite ranges from 30 GB up to 1 TB each. What many people don't know is that you can create storage folders on Drive with shared access. You can allow users to simply access and download content. You can even grant them permission to upload content or edit the contents of a folder or individual file.
One way in which this might be useful in learning environments is to provide a perpetual, access anywhere resource for supplemental content. Say you have a course that teaches learners how to complete certain critical documentation required for compliance in your industry. Templates, samples, and step-by-step instructions could be added to a Drive folder for access. A learner could then get those files on their laptop, tablet, and even smartphone.
Blogs
Believe it or not, blogs have now been around on the Internet for over 20 years. They are an excellent medium for providing extended information on learning content as well as updating or supplementing learning without rebuilding a course.
Virtual Worlds
While the public picture of virtual worlds is one of teens and Sheldon on the Big Bang Theory, the reality is far different. Many virtual world services exist that are more practical in nature; or at least offer a practical alternative to the fantasy worlds. One of the services, called Second Life, allows for you to create virtual lands with controlled access where interactive experiences can be created. Along this same line, the simulation industry has been working with this technology for quite some time.
Text Messaging
Like other social media, it seems that texting is everywhere. Every smartphone has text messaging capacity and most today even have multimedia messaging capacity. The most obvious use of texting for learning is providing quick notices. Remind them about the class they enrolled in. Or a notice that they must complete a compliance course by a deadline.
Yet another way that text messaging could be used would be to share new information about a topic or links to something you might want the learner to view or read. Think about an automated system where a learner can subscribe to receive a daily instructional text message or even just an inspirational thought of the day.
Is Social Media Learning Ready for Prime Time?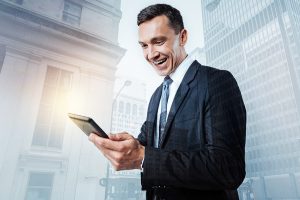 There's a lot to still be worked out here but the upside promises to be huge. One of the biggest considerations is that many of these platforms are owned by companies that are not you. Any content you post on Facebook, including images and photos, become the property of Facebook. In fact, ALL CONTENT posted to most social media platforms – Facebook, Pinterest, LinkedIn, et al – are owned by the platform and not by the poster. This would make adding proprietary content absolutely out of the question.
So as you look at implementing social media learning, you want to think about content ownership and security. Think about how you would integrate the activities and track them. Is this where xAPI could come in? 
Most importantly, don't do it randomly. Have a plan and make sure it fits in well with your other learning initiatives. If you do that, you can better prepare for the eventual challenges that will pop up, as well as prepare for future technologies.
Need help figuring out how to leverage technology for your learning world? Consult the experts! JCA Solutions is here to help! Contact us today at support@jcasolutions.com.