SIMPLE SCORM VIDEO PLAYER (SSV)
Make any video run on any SCORM or xAPI (Tin Can) conformant LMS.
Simple SCORM Video Player is a video wrapper that transforms your regular videos into e-learning SCORM-trackable videos that you can upload into any LMS.
Simple SCORM Video Player allows for SCORM 1.2 and 2004 bookmarking data and completion data to be sent from your video to any SCORM-conformant LMS. Once your video is wrapped with Simple SCORM Video Player your video will function as follows:
The video will be marked as completed in the LMS when the learner reaches the end of the video and if the learner leaves the video and returns at a later time they will be taken back to the place in the video they left off at.
Best of all Simple SCORM Video Player is only
$199.95 for an unlimited course license.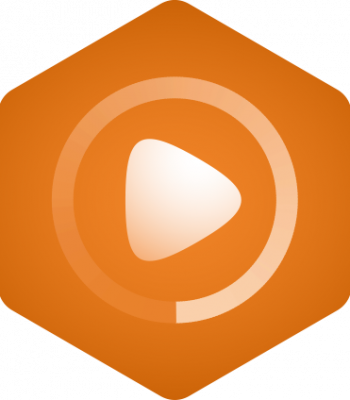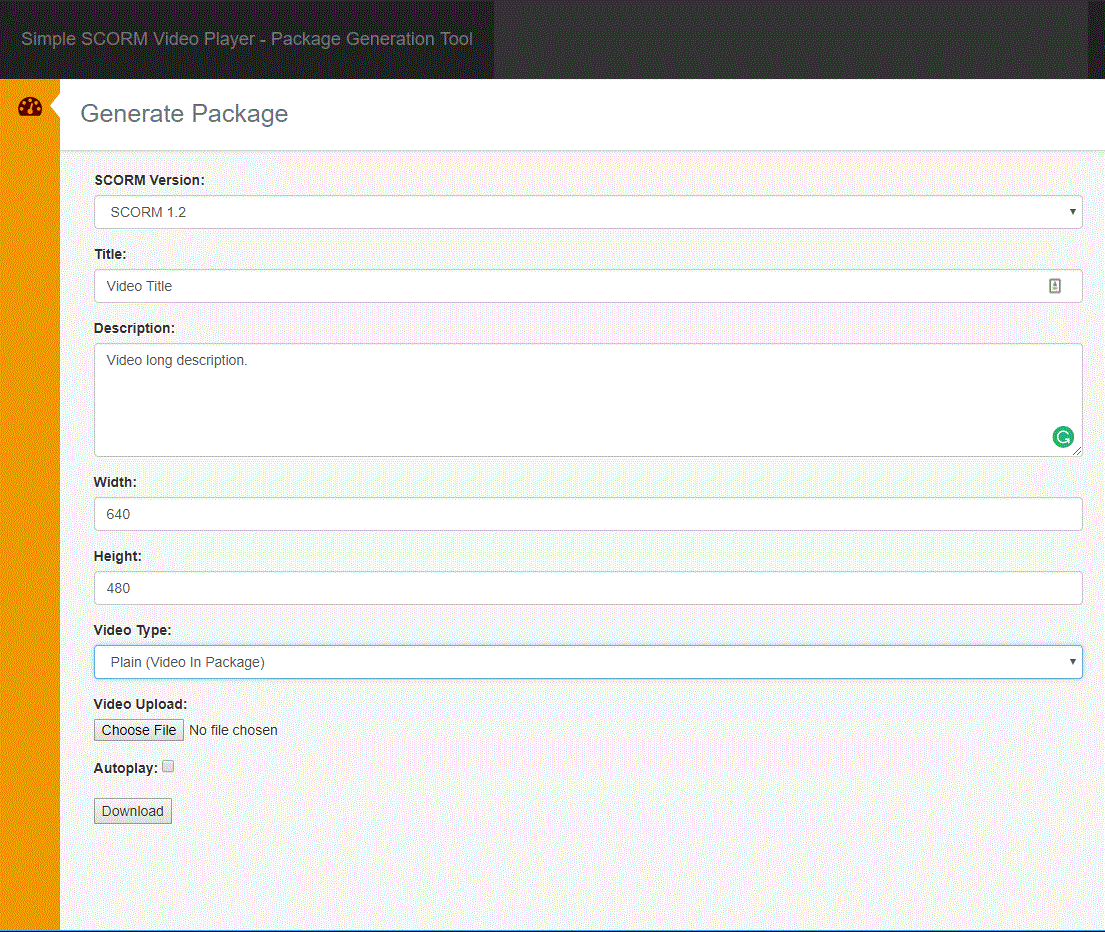 Using the Package Generation Tool:
Choose your SCORM Version

None
SCORM 1.2
SCORM 2004
xAPI (Tin Can)

Enter a title for your video
Enter a description for your video
Enter the width for your video (set to 0 for responsive design)
Enter the height for your video (set to 0 for responsive design)
Select the video type

Plain (Video In Package)
Plain (Remote URL)
Vimeo
YouTube

Upload your video
Select whether or not you would like your video to autoplay (not supported in iOS)
Download your package and upload it to your LMS.
Comes with a Package Generation Tool that makes creating video packages a breeze
Completion tracking at end of video or within last N% of video
Mobile and desktop friendly
Control seeking behavior; prevent fast-forwarding
Supports package-contained MP4 and remote/CDN MP4.
Supports Youtube and Vimeo video embeds.
Offers autoplay (not supported on iOS)
Supports responsive video sizing
Produces packages that can run on SCORM 1.2, SCORM 2004, Tin Can or WBT (tracking disabled) environments.
FREQUENTLY ASKED QUESTIONS
How do I create a video package?
In order to create a Video Package, you need to:
Extract the .zip file to a folder on your PC.
Open the extracted directory and navigate to the /release/ folder
In the /release/ folder double click on the ssvbuilder.exe and allow this application to run.
Fill in the requested information within the Package Generation Tool from top to bottom and then press the "Download" button at the very bottom of the application. This will export a package that you can load into you LMS.
How do I enable responsive mode?
To enable the responsive mode, set the width and height to 0 in the Package Generator Tool.
Can I add a functionality (code) to the completion of the video?
For completion tracking, there is a property in config.js named "completeFn" that you can assign a function to when the video fires the onComplete event upon reaching the end of the video.
How do I replace the JCA Solutions logo on the video player?
You can change the logo by opening the directory \release\stub\img\ there you will see a file named logo.png. Replace this logo.png file with your own logo file named logo.png and that will replace the logo in the video player.
Below is the full data list and more data can be added upon request
SCORM 1.2
LMSInitialize("")
LMSSetValue("cmi.core.exit","suspend")
LMSGetValue("cmi.core.lesson_status")
LMSSetValue("cmi.core.lesson_status","incomplete")
LMSGetValue("cmi.core.lesson_location")
LMSSetValue("cmi.core.lesson_location",position_user_closed_or_paused_video)
LMSGetValue("cmi.core.lesson_status")
LMSSetValue("cmi.core.lesson_status",status_based_on_video_completion);
LMSCommit()
LMSFinish();
SCORM 2004
Initialize("")
SetValue("cmi.exit","suspend")
GetValue("cmi.completion_status")
SetValue("cmi.completion_status","incomplete")
SetValue("cmi.success_status","unknown")
GetValue("cmi.location")
SetValue("cmi.core.location",position_user_closed_or_paused_video)
SetValue("cmi.success_status",status_based_on_video_passed/failed)
SetValue("cmi.completion_status",status_based_on_video_completion);
Commit("")
Terminate("")