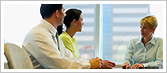 "Take the JCA Solutions Challenge."


"We have never seen a SCORM scenario we could not implement ... and we challenge you to stump us — no matter how impossible your situation seems."
See Details on our Simple SCORM solutions
We're SCORM Solvers:
Whatever your SCORM problem, odds are JCA Solutions has seen — and solved — it before. And we can prove it.
We're SCORM Savvy:
You won't find anyone who knows more about SCORM than JCA Solutions. We started when SCORM started in 1997 after one of our founders helped develop its first metadata specifications along with being named researcher of the year for his contributions.
What makes us experts?
Awards and Certifications

ADL Certified SCORM 1.0 Auditor



Books

SCORM : A Practical Hands-On Guide

Teaching and Training

JCA Solutions On-Line Instructor Lead Training
Practical Hands-On Guide to SCORM



Part of the SCORM Community
Putting our expertise to work for you.
Detailed Information
SCORM Computer-Based Technology
SCORM Package Testing and Debugging
Custom SCORM Programming
SCORM Course Wrappers
SCORM for CD
SCORM Content Conversion and Upgrade
SCORM Security Auditing and Vulnerability Testing
IMS Simple Sequencing Templates
Learning Management System SCORM Customization and Upgrades
SCORM and AICC Content Installation and QA