Simple SCORM Packager (SSP)

More Products...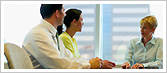 SERVICES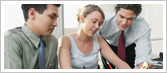 DEVELOPMENT
Welcome
JCA Solutions is a consulting company, specializing in Sharable Content Object Reference Model (SCORM) and e-learning technologies. We strive to meet the needs of each and every customer on a personal level. We are process-oriented and pride ourselves in our attention to detail. Our focus is on SCORM and our goal is to create value for our customers by providing consultants to support our client's courseware development process or provide tools to streamline SCORM conformance. 

JCA Solutions facilitates greater e-learning content functionality, reusability, accessibility, and easier deployment to your target Learning Management System. 

There are firms in the market that focus on creating pedagogically sound e-learning content for online training. This is not our business focus. Our business focus is to ensure that the content produced by these companies is in accordance with the proper and current e-learning standards in order to facilitate content reusability, accessibility, and deployment. As a secondary offering, we provide programming and consulting expertise to increase e-learning content functionality and interactivity. 

The goal of JCA Solutions is to facilitate e-learning content reusability and accessibility, through standards compliance, thereby bringing long-term value to our customers.
We are now offering open source LMS support, maintenance, and development contracts even if you don't host with us. If you need maintenance and support or just some quick turnaround LMS development give us a call.